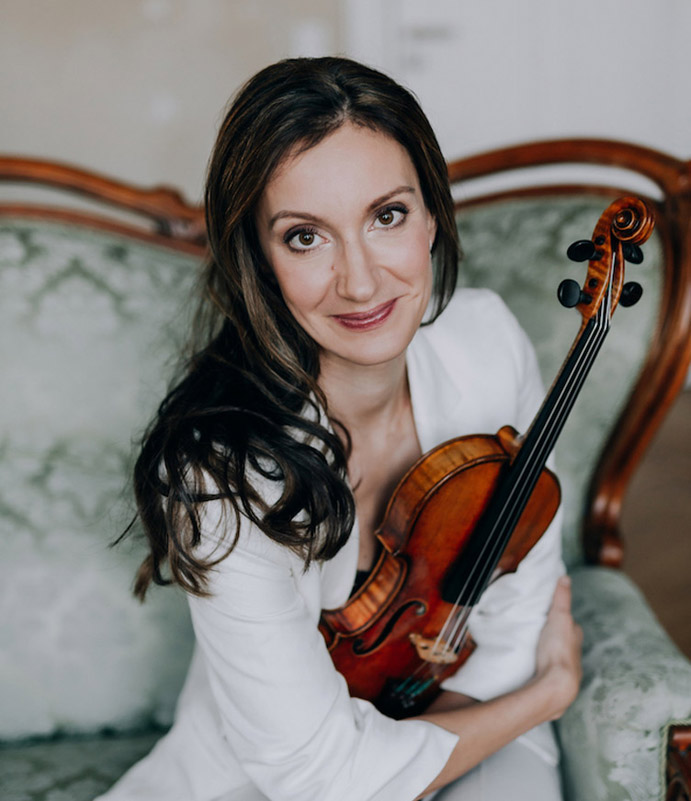 Łucja Madziar
---
Violinist Łucja Madziar was born in Poland and received her first musical impressions through the music of her native country by composers such as Frédéric Chopin and Karol Szymanowski. After her early musical training on the violin in Poland, she first studied in Rostock with Petru Munteanu and later in Graz with Silvia Marcovici. She also received significant musical inspiration from artist personalities such as Ida Haendel, Shlomo Mintz, and others. Madziar is the winner of the International Violin Competition Vaclav Huml in Zagreb and laureate of the International Fritz Kreisler Competition in Vienna. She was also awarded the DAAD Prize for outstanding achievements and was honored with the Aalto Prize for young artists.
Since her debut in the Laeiszhalle Hamburg, Łucja Madziar has performed regularly as a soloist with orchestras such as the Essen Philharmonic, Lower Saxon State Orchestra Hanover, Wuerttenberg Chamber Orchestra Heilbronn, Folkwang Chamber Orchestra Essen, and others. Collaborating conductors include Stefan Soltesz, Ivan Repusic, Joerg Faerber, Michele Spotti, Karen Kamensek, Alexander Joel, and Pavel Baleff, among others.
Another important facet of her musical career is her work as a concertmaster, a role she has filled since 2006. She served since 2010 as 1st Concertmaster of the Lower Saxon State Orchestra Hanover. From 2006 to 2010 she held this position with the Essen Philharmonic, during the 2015/16 season she was engaged as concertmaster of the Munich Philharmonic and from 2019 to 2021 as 1st Concertmaster of Deutsche Oper Berlin. In addition, she makes regular guest appearances as First Concertmaster with nearly all of Germany's and foreign prestigious orchestras, such as the Munich Philharmonic, Gewandhaus Orchestra in Leipzig, Bayerisches Staatsorchester Munich, Staatskapelle Berlin, Guerzenich Orchester Cologne, WDR Radio Orchestra Cologne, NDR Radiophilharmonie Hannover, Museumsorchester Frankfurt, Düsseldorfer Symphoniker, Mannheimer Staatstheater, Dortmunder Philharmoniker, Bochumer Symphoniker and the Vlaamse Opera, under the direction of conductors including Zubin Mehta, Valery Gergiev, Kirill Petrenko, Simone Young, Sir Roger Norrington, Lawrence Foster, Thomas Hengelbrock, Krzysztof Urbanski and Andrei Boreiko, among others.
A passionate and experienced chamber musician, Ms. Madziar has appeared in recitals at festivals in Europe and North America, including the Beethovenfest Bonn, Festspiele Mecklenburg-Vorpommern, Bowdoin Summer Music Festival, Styriarte (Graz), Paderewski Festival (Warsaw), Festival Mitte Europa and Festspiele Herrenhausen. In 2012, with pianist Katharina Sellheim and cellist Johannes Krebs, she founded the Klaviertrio Hannover, which has performed numerous concerts in Germany and is known for its honesty of interpretation.
Born in Poland, Ms. Madziar performs on a Milanese violin made in 1759 by Carlo Landolfi.